Elm City Robo Squad - Team 558
Team 558, Elm City Robo Squad, is a competitive high school robotics team comprised of highly dedicated public-school students and mentors from all over Greater New Haven, CT. They have dominated in a national program called FIRST – For Inspiration and Recognition of Science and Technology – which strives to expose students to technology from an early age. Locally, Team 558 has been inspiring students to explore robotics, machining, engineering, computer science, business skills and teamwork for decades.
And Team 558 has its roots right with AVANGRID employees!
The relationship dates back more than two decades ago when executives at local electric utility, United Illuminating (now a wholly-owned subsidiary of AVANGRID, Inc.) and faculty members from Yale University met to discuss a common problem: how to retain young, local, technical talent.
Before handheld devices and the internet was ubiquitous, these community leaders knew it was necessary to find a way engage younger students and help develop their STEM skills (science, technology, engineering, and math) for the future success of their organizations. They set out to find means to help students develop these skills earlier in their education.
The assembled group sought out an extracurricular avenue to reintroduce technical, hands-on education to high school students…
A Brief/History of FIRST…
The group in New Haven wasn't alone. A decade earlier, inventor Dean Kamen (of Segway fame) saw a similar dilemma with students losing ground in STEM. Fortunately; he met MIT professor Dr. Woodie Flowers and was inspired by his immensely popular course for college students, "Introduction to Design and Manufacturing", which consisted of a single design challenge. Students would be given a problem, and instructed to build a robotic mechanism to solve it, which then became the foundation for FIRST. The FIRST Robotics Competition (FRC) had its inaugural competition in 1992 in a high school gym in Manchester, NH. The program gave teams a game, and six weeks to design, test, and build a machine that could play it. Its seven-team competition wasn't much to watch but it was the start of something big!
A United (Illuminating) Legacy
Greater New Haven's proto-team came to life in 2000, in the basement of the newly-built Hill Regional Career High School. The group registered with FRC, which by that time was reaching more than 500 schools nationwide. (Team numbers are assigned chronologically; new teams in 2019 now have numbers in the 8000's!)
Generations of UI employees and their families have touched Team 558 since the foundation. Mentors are extremely dedicated, spending more than four hours a night with the students during build and competition season which runs roughly January to May. They also travel with students to competitions all over the region (and sometimes country) and fundraise in addition to providing skill and expertise.
Mentors include retired UI Engineer Cliff Branzell who more than ten years ago gave new life and momentum to Team 558 and made it a family affair. Cliff's son Christian was an all-star student that helped with nearly every facet of the team, while Cliff taught himself the LabVIEW programming language so he could teach the students computer programming.
Today, the newest stalwart is Andrew Morrison, an engineer with the Operational Smart Grids as an Energy Control Systems Engineer with UI/AVANGRID who grew up with the FIRST program in Hammond Indiana (part of the 2004 World Championship winning team!). Andrew has been with UI/Team 558 since 2011. He says that first impressions were powerful:
"[Team 558 was in] a small room with minimal resources located right outside of downtown New Haven – in the city's largest and poorest neighborhood - but I could tell immediately that the students were incredibly dedicated. They wanted to have more success in all facets of the team and I saw that I could have immediate impact," said Morrison. "It is all about giving the students the best experience possible."
Turns out, Andrew was right on time. In 2012-2013, Team 558 started a streak of regional finalist appearances and State Championships.
Says Morrison, "[2013] was amazing, and a lesson in simplicity in design. We built a robust brute of a machine that was just plain fun and to top it all off; we won the inaugural Connecticut Interscholastic Athletic Conference State Championship! It started a remarkable run for the Robo Squad. "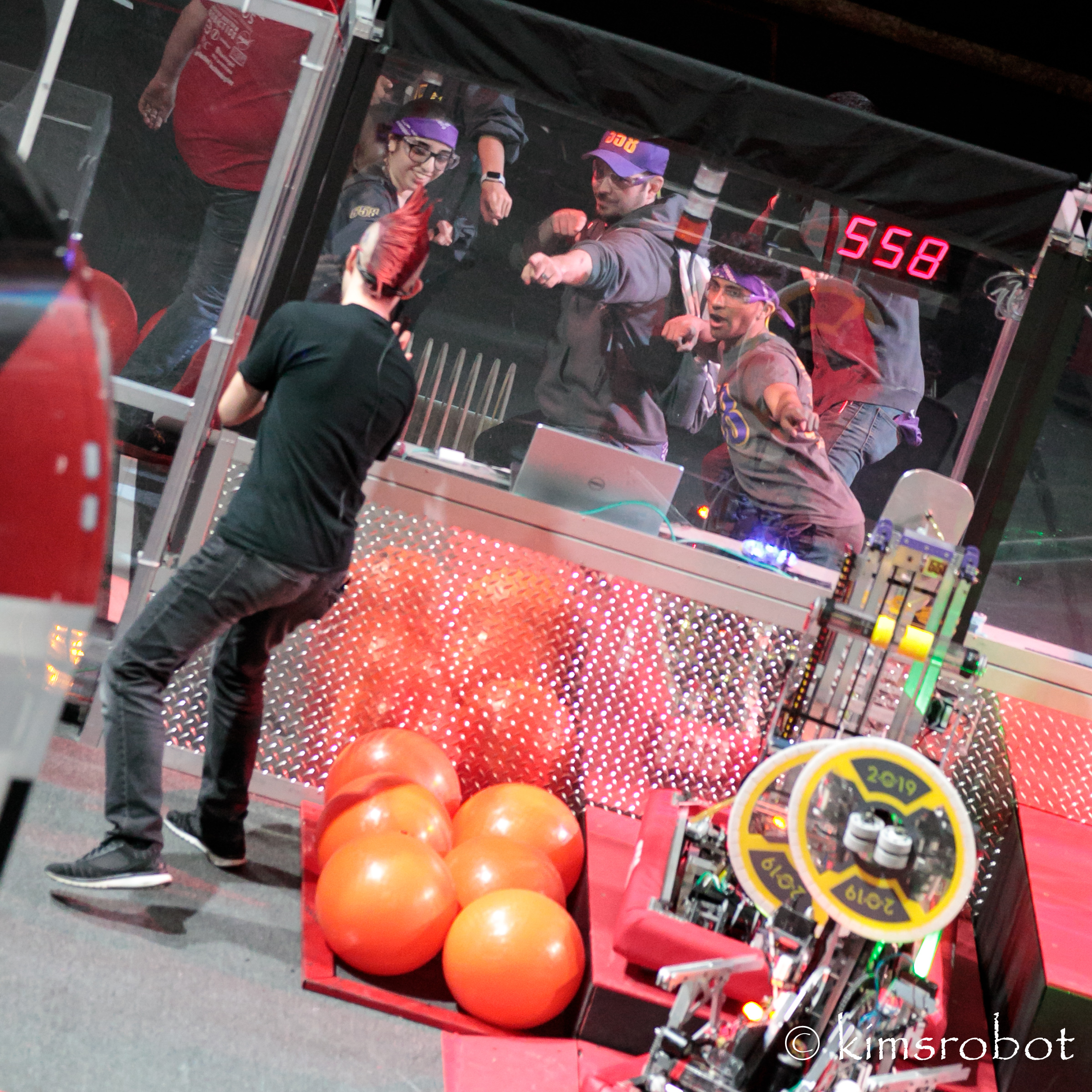 Building Skills & Community through Robotics
Today, Team 558 is hard at work building their skills, resources and expertise with the goal of having the greatest positive impact of the students' experience while learning electrical and mechanical design. As part of the team, students gain the ability to learn skills like how to use tools like a lathe, mill, and CNC router and more basic tools like the band saw and drill press.
Beyond the technical, the team focuses on effective communication, safety, multiple programming languages, vision processing, technical writing, community outreach, fundraising, graphic design, and much more.
They have robust communications - social media presence and a weekly newsletter.
They actively mentor other teams around the country who are building programs or grappling with design challenges. Since 2016, Team 558 has hosted a FRC Rent-a-Mentor program. This program provides teams with fewer resources and technical expertise a platform to reach out and ask for help. Team 558 students and mentors then assess if they can help or find a mentor from another team to them to help them. The team also regularly makes appearances at local public events with organizations like Camp Rising Sun and the Long Island Sounds Coast Guard in order to inspire another generation of engineers.
Interest and participation in Team 558 has been recognized and rewarded. Since 2014, Team 558 has won six competitions, been a finalist four times, and won FIRST's most prestigious award, the "Chairman's Award" – which recognizes the team that best represents a model for other teams to emulate and best embodies the purpose and goals of FIRST, an incredible seven times!
To top it off, team 558 has been crowned the Connecticut State Champions four times in the seven years of the tournament's existence.

Today with Team 558 & into the Future
This year's challenge (2019) was "Destination Deep Space." Teams get a new challenge every season – and the team created an incredible robot that can navigate foreign terrain, pick up and move complex objects and do so with limited visibility, just like a Mars Rover. They had only six weeks of a "build season" to complete the challenge.
The 2019 season continued the long string of success for the Robo Squad. The team's ability to continue adapting led to a uniquely simple machine that helped lead to success both on and off the field.
A quick recap of Team 558's 2019 accomplishments:
Waterbury District Event – Judges Award, Semi-Finalist

Hartford District Event – Engineering Inspiration Award, Quarterfinalist

New England District Championship – Team Spirit Award, District Championship Winner

World Championship – (6th straight year qualifying) Quarterfinalist

CT State Championships – Quarterfinalist

Where is Wolcott Invitational – Best Design Award, Event Winner
Another thing that makes Team 558 so special: no students are turned away nor are they never asked to pay to participate in the program or competitions.
In 2019 the team was made up of over 40 students of students from 4 of schools (and 20 mentors). More than half are women. More than 90% of the students self-report as receiving reduced or free lunch.
Recent state and sponsor budget priorities continue to present a challenge to the team, which needs about $70,000/year to operate. But Team 558 continues to thrive, winning competitions and often, college scholarships.
"[Nineteen] years ago, United Illuminating became a founding sponsor [of Elm City Robo Squad] and more recently Avangrid Foundation has maintained the commitment to sponsoring our program. United Illuminated engineers have mentored our students every year giving generously of their time. The success of our program is because of this support." - Alberta Vitale, Elm City Robo Squad Mentor
The Avangrid Foundation, in partnership with United Illuminating, is proud to support Team 558 in all that they do, and in support of the UN Sustainable Development Goals.